Online lead generation is a vital part of digital marketing. It is the process of acquiring a user who is interested in business offerings. Generating a Lead generally means finding prospects for a business that can be a consumer in the future. Lead generation is important in a business because without lead generation the business won't be able to make sales and won't be able to expand or grow itself.
All businesses are heavily dependent on lead generation and it can be done in multiple ways. Like offline marketing as well as online marketing techniques. Today we will focus on how to generate leads through digital platforms using various online techniques. Digital platform allows businesses to showcase their products and services to users using digital channels.
Digital Marketing and Online Lead Generation
Online lead generation is also a very important part of Digital Marketing; is nothing but getting qualified prospects using different online platforms. When you market your good and services online, you need to attract and impress potential customers through online lead generation.
This technique is really popular and is taught by a lot of digital marketing institutions. If you want to learn this marketing technique Indian Digital Marketer is the place for you, it is a digital marketing institution that is now providing you with digital marketing courses in Pune. You can take up their digital marketing certifications, making it easier for the people living in Mumbai. 
There are different types of Online Lead Generation:
Social Media
With the increase of different social media platforms, social media becomes one the of important lead generation types. You can put a post on Instagram or Facebook and promote your products or services there. You can easily attract the targeted customers and convince them to buy your products or to master the skill you can also do social media marketing courses. You can use Social Media Platforms like Instagram, Facebook, Twitter, and LinkedIn to find the audience who are interested in buying your product.
Especially with the help of social networking websites organizations generating leads and getting business opportunities, many businesses use social media sites like LinkedIn, Twitter, and Facebook to attract new customers or promote their new products and services.
Email Marketing
A lot of business houses use this type to promote the launch of their new product or just to promote an old product. Here they sent out emails or newsletters to the targeted audiences just to make them aware of the product and its features indirectly or sometimes directly convincing them to purchase. The sole reason for online lead generation is to convince people to buy their products or services. 
Email is one of the most prominent tools for businesses to connect with customers and vendors. As a response, marketers frequently send messages to users' inboxes. Every day, multiple email campaigns generate a large number of leads. Email campaigns will continue to be an effective email marketing technique in the upcoming future.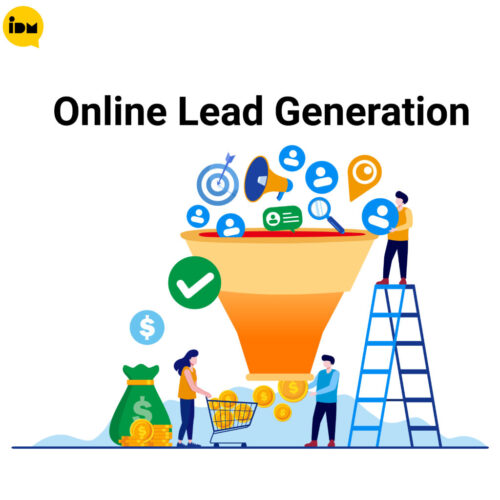 Why is Online Lead Generation important for your business?
Online Advertising
You can also put up advertisements with a CTA (call to action), which will bring traffic to your website. The only drawback of this type is that it is not cost-effective. A lot of money is spent to put up an advertisement on different platforms like YouTube. And sometimes it is not even effective. So, it's better to join the best digital marketing courses and become a pro in online advertising. 
Conclusion
Marketing is all about making new contacts every day, and online lead generation helps you to achieve that. It also makes sure that your business grows and expands by increasing the sale of the products and services. Online Lead Generations, helps you make better relations with potential customers and induce them into buying the product.